Snail Run is a game + game controller designed by Li Hui Hui, Ou Yang and Hou Zhen Long during the ENIAROF workshop at the Central Academy of Fine Arts, Beijing. The workshop was organised by Antonin Fourneau, Douglas Edric Stanley and Cheng-Liang Wang with assistance from Linekernel and Robin Moretti. It was financed by France-China 50, in celebration of 50 years of diplomatic relations between the two countries; The Central Academy of Fine Arts; and The Aix-en-Provence School of Arts.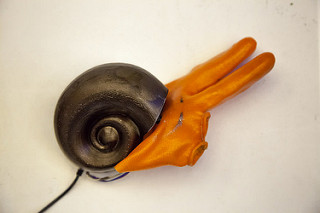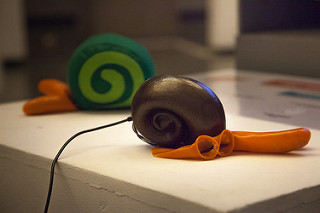 Snail Run is a first-person snail survival game. You play a snail trying to escape from a hostile kitchen environment.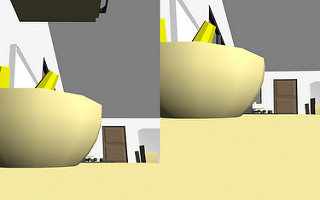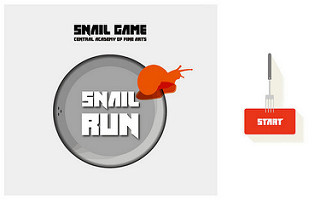 To play the game, players wear a Snail glove controller which detects movements in the index and middle fingers. By curling the index finger, the snail moves to the left; by curling the middle finger, the snail moves to the right; by curling both fingers, the snail advances straight ahead. By contracting these two fingers tightly into a fist, the snail retreats into its shell, thus protecting the player from falling knives, salt, flames or other dangers.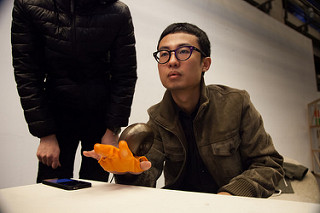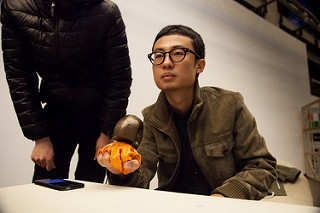 The game was developed in Unity3D and modelled by Linekernel in Lightwave. The glove controller electronics were engineered by Antonin Fourneau. The glove was 3D-printed and built by the Snail Run team (Li Hui Hui, Ou Yang, Hou Zhen Long).
Following a card-game method created by Antonin Fourneau and Douglas Edric Stanley (cf. The Card Players), each team in the workshop pulled 8 cards:
1 x French
1 x Chinese
1 x General Culture
3 x Materials
2 x Manager
Based on these cards, each team comes up with a proposal which is then built within the remaining week during the workshop.
For the « Oh Young! » group, the following cards were drawn:
Escargot
Wu Xing (五行相生相克 阴阳五行 五运六气 五行与干支)
Inverse Everything
Body Sensor
Tilt Sensor
Accelerometer
Open Source GPLv3
License Sharing Agreement
Along with the Arduino-based, flex sensor solution for the snail controller, we also prototyped interaction with the game using a three-button mouse. This solution allows players to test out the movements of the snail by holding down either the left mouse button, the mouse right button, or both mouse buttons and dragging the mouse downwards. A click on the center (scroll wheel) button acts as the retreat button into the snail shell. This simplified somewhat the development process (although we did of course try developing directly while wearing the snail controller, cf. below).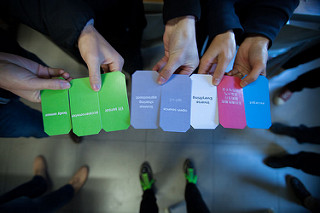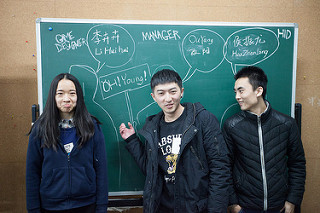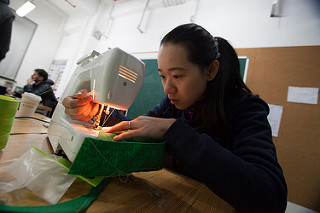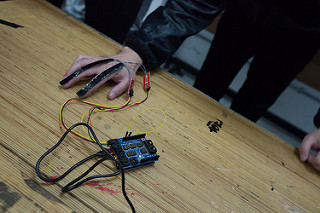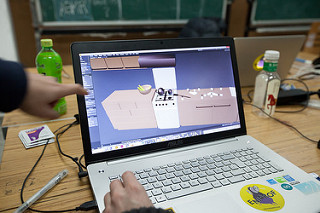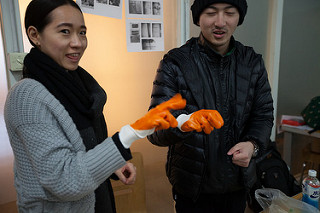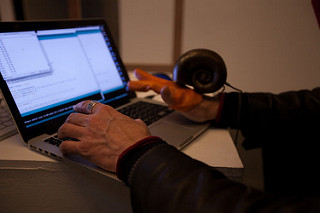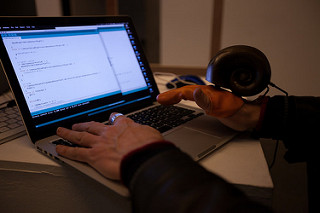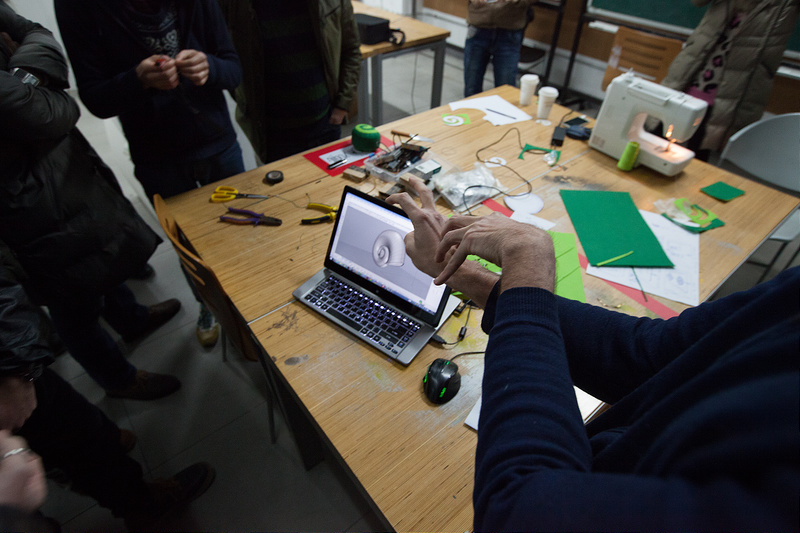 For more information on the workshop, and the other games we created: cf. ENIAROF CAFA.