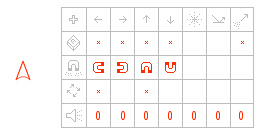 The Game Machine is an interface that allows for the creation of fully-functioning video games for the Gameboy Advance platform. Games also work within the Game Machine Emulator, which use the Shockwave platform to allow online users to build and explore games created with the system. The games can be built, shared and downloaded online, and then transferred to the Gameboy consoles. The games are easy to make, hence turning the passive Gameboy consumer into a video game programmer via simple drag & drop procedures.
/////////////////////////////////////////////////////////////////
The Game Machine. This is a cool interface I designed a few years back, but never really took the time to prepare it for the rest of the world. It's been an on-again off-again project as I've never really had the opportunity to show it. This time I've gone out whole-hog and started integrating the system with some Gameboy Advance experiments I was working on last year. People should be able to make games for their Gameboy Advance and share them online.