I have already mentioned these two several times recently, but I just discovered this fairly exhaustive video interview of Étienne Cliquet by Marie Lechner and filmed by Marika Dermineur: video link. I was looking for something with a student and we fell onto this series of videos in which Étienne articulates quite clearly and susinctly his particular mix of art contemporain, les sciences and origami. I've been trying to find an angle on his work recently as it contributes significantly to the approach I'm trying to develop around code|art, and specifically the role of the diagram in the construction of abstract concretions (which is about the only way I can put it).
I especially appreciate the way in which he describes his process of distancing the three central poles of his work — art, science, crafts. Instead of attempting their association, he instead uses each to distance the other; in fact, using each pole to distance the other poles from themselves. Crafts reappropriates scientific protocols and distances scientific research from science, science becomes a form for distancing creation from art, etc. This is a brilliant formula for avoiding the whole trap of arbitrarily trying to relate « science » and « art », as if they were two long-lost twins somehow separated at birth.
My favourite part (cf. chapter « Origami, sculpture open-source ») is when Étienne moves from diagrams to folds and on to Lawrence Weiner, Marie then brings him back to open-source to which he replies: encryption, enigmas, puzzles, and the skull of Hans Holbein's The Ambassadors.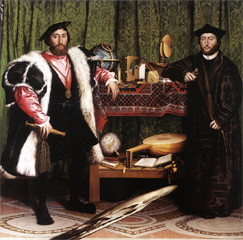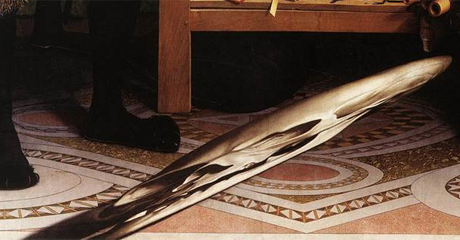 I particularly like that last movement from paper folding to encryption which I would relate to the process of compilers and decompilers, sourcecode vs. bytecode — I'll explain myself later and elsewhere. When you look at Étienne's Tegument-X, for example, it is less of a question of open/closed, but instead of not having the mounting diagram. This leads to some interesting questions surround compilability, which I would distinguish from the current resurgence of the 80's term of « access » (cf. access culture). It's an open question for me (I'm thinking aloud here), but I can start to feel a conceptual distinction at least of these two terms.
I'm sorry to link to a French-only interview that even worse can't be massacred by Google's translation robots, but even if you can only understand a little French, try to wade through it. But I'll chance it because I know a lot of French readers follow this blog, despite the fact that I only write in my native tongue here (consider it my soupape where I can blow off a little steam and feel a little more at home).
On a side note, ordigami has the interresting quality of being the only contemporary art blog that I can read with my daughter Lola Daisy. She enjoys it as much as me, albeit from a totally different perspective. She and I have been origami hobbyists for quite some time, and just finished our own little origami cat:
Actually, for Lola, folding hundreds of little pieces of paper and assembling them was not all that much unlike the drawings she makes using Seymour Paper's Logo. The typical spriograph one makes at first in Logo is almost identical to the process required for making the body of our Maneki-Neko.