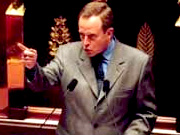 Ok, so everything has officially gone haywire here in France.
First, our Minister of Culture, the succinctly named Renaud Donnedieu de Vabres, decides to legalize DRM'd content, and more importantly to propose a law more or less forcing DRM as the standard media exchange model, effectively making various open-source peer-to-peer solutions illegal. The law is called DADVSI (Droits d'auteurs et droits voisins dans la société de l'information). You can consider it an offshoot of Clinton's DMCA. For example, in the law, it stipulates that trying to bypass a copy-protection system can land you in jail for three years with a 3000€ fine. The Minister denies this as caricature (pointing to new amendments that he's added to the bill), but as far as I can tell, this anti-bypass stipulation is still part of the proposal. He speaks of the right to copy for personal needs, but says nothing of the legal quagmire cryptography has gotten itself into under the DMCA. Nor has he said anything about libraries or education.
Obviously, as an artist who defends hacking as an artistic method within one of his very institutions (I teach in an art school), I'm more than a bit troubled that the big boss is undercutting artistic freedom in the name of defending artists. Obviously, and to give him credit, he's trying to defend artistic royalties, but ultimately the model he defends is one that protects traditional media that has simply been updated to the digital format, while singling out as the culprit the very expression that looks to be the next artistic form of expression: namely algorithmic or dynamic media. He has been defending video games recently, which is good, but that's an easy one because that field has become an industry, and it is easy to regulate. I'm more interested in the lateral-growth field of dynamic media as a multiplicity, and these actions are going to do more to stop that diversity than protect it. Indeed, it might be the very thing that stifles it. I might be wrong, of course, but a lighter step, with larger consultation, should have been de rigeur.
Traditional media has become huge, too huge — indeed the 800-pound gorilla — and needs no such protections. It is becoming more and more of a barrier to entering into a dynamic relationship with media in general. Traditional media needs shaking up — it's a creative ecosystem issue — and that's exactly what's happening. I still think it's too soon to take a final position either way on these issues, and a Minister of Culture should look more to new forms, than defending old ones that are honestly doing fine thank you very much. He might think that's he's hip by inviting Virgin into the parliament to give demonstrations of their high-tech online music stores. But he's mistaken: that's still the old media empire. It's still in power and is trying to wield it to get into the new power arena. And every time I turn on the television (Canalsat, sub-division of Vivendi) I am reminded of the power this empire still wields over us.
If you're wondering how this thing came about, a part of his law was — yes it's true — actually penned by Vivendi lawyers, and join all the insane arguments Hollywood has been making for years about the need for huge unified media empires to protect us little artists that obviously wouldn't know what to do without them. All this in time for Christmas, when everyone is busy elsewhere, and all within a law that has to be debated en urgence, i.e. with one single reading so as to pass it through as quickly as possible.
The infamous line that exploded the debate, came from the SACEM (a powerful institution dealing with music royalties). Symbolically addressing open-source authors, they said, "Vous allez arrêter de publier vos logiciels" (you will stop distributing your software). They also vowed to fight in the courts anyone who would do so, once these laws had passed. Obviously this pissed off a lot of people, notably the French web radios who called for various boycotts and created anti-DAVDSI petitions that have caught fire and made it difficult for the Minister trying to pass his law.
The protests got to such a shrill that even within his own majority party, members started defecting during the parliamentary debate, and have now voted-in a pro-P2P amendment, initiated by the Socialists and Communists. Their idea is to propose an opt-in tax, basically the equivalent of a subscription-model only run by the state, that would allow you to exchange files in an unlimited manner over peer-to-peer networks. lol!
In response, that amendment has brought out a bunch of "artists" in the press — basically singers and musical groups — who've started protesting the anti-DRM-pro-Peer-to-Peer faction of the Socialist Party. It's hilarious to watch, as 50-something leftist singers come out railing against "free culture", making statements that drag us back to the good old Napster-Metallica debate when Lars Ullrich made an ass out of himself with what probably began as good intentions. This is obviously going to reinforce the Minister of Culture who, while he was dropping his pants for the music industry, claimed he was doing so in the name of artists.
So all hell has broken loose, and at least one good thing has come out of it: the government has proposed to postpone the debate until January when everyone's gotten over the hangover (and the Minister has mobilized enough "artists" to his cause).
I actually met the Minister of Culture — he's quite charming — and sat through a surreal session while he negotiated with the theatre unions during some heated strikes that were going on over a year ago. He had been appointed by Chirac to take care of this strike, but all the while I suspected something else, considering that he's very close to the multimedia publishing industry. I still pinch myself to this day that I wasn't more vocal on these issues when I had the chance, but I deferred to my colleagues out of solidarity, not wanting to confuse their negotiations.
I'll leave off my rant here. Please excuse me while I go buy another Christmas Carol off iTunes.