Installation + CD-Rom: E-Rex, Ecran Robot Explorateur
Concept + Design: L.O.E.I.L.
Interface Design + Development: Douglas Edric Stanley
Visuals: Mathieu Imbert
Video: Erex Interface (mp4)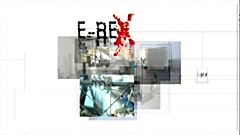 This interactive manual was designed for the E-Rex, an experimental robotic screen designed at the Loboratory LOEIL for the exploration of images in a 360° space. To accompany the installation, this manual was placed at the periphery of the exhibit, giving instructions on the manipulation of the device. Significantly, the interface re-enacts the endless circular mouvements of the screen, and allows the users to manipulate the different parts of the system through interactive video illustrations.