To continue the series on cool student work from the Atelier Hypermédia, and just in time for ENIAROF, comes this small portrait of Jankenpopp (pronounced Jan-ken with a hard J), i.e. Pierre-Erick Lefebvre. Janken has been a longtime collaborator on projects such as 8=8, my assistant for the Objets orientés objet workshop in Genève as well as for the Concrescence algorithmic cinema platform where he contributed significantly to the project. Until recently he was a student in Aix-en-Provence, and is now starting his post-graduate studies in the Atelier de Recherches Interactives at the prestigious ENSAD in Paris. Finally, he and Antonin Fourneau will be bringing the rest of ARI to my Atelier this Tuesday to create the next great noisy, goofy, dopey, thumping, stumbling, bumping, @#!&ing, beeping and booping machines for the ENIAROF Video Arcade.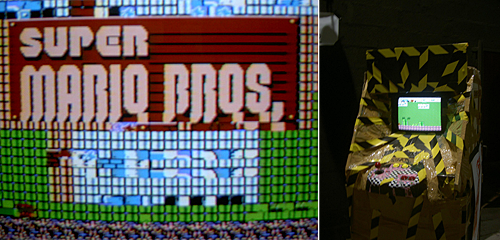 The first thing you need to know about Jankenpopp is that he's one of of those kick-ass mashup DJ breakcore dweebs:
He has several online albums you can download at: jankenpopp mp3s, my favorite track being Nova Swap.
The second thing you need to know is that he's a lazy-ass programmer who makes totally cool mini-software online, i.e. however he feels like it, just piling on the code until he get's what he wants. Usually it looks something like this (click on images to play, requires Shockwave) :
And then, the final thing you need to know is that all that occasionally gets rolled up into a ball and turned into more complex (and well-programmed) audiovisual musical ensembles where the images/programs play/generate the music:
Both of the above videos are collaborative efforts, but there are certain sections that have his signature all over them.
Oh, and I forgot, although it was also mentioned here earlier: he created the Jankenpopp-666 soundfont, for my Cubed installation at ZeroOne San Jose: