In Scolu one discovers a virtual and interactive aquarium – also a multi-touch interface – inhabited by aquatic creatures created by Leïla Jaquet in collaboration with Stanislas Bernatt. By placing their iPhone on the interface, visitors see the behaviour of the creatures alter: when one of these creatures enters an iPhone, the visitor can take it with them and then give or exchange it. The experience is therefore intended to continue and to spread beyond the walls of the exhibition.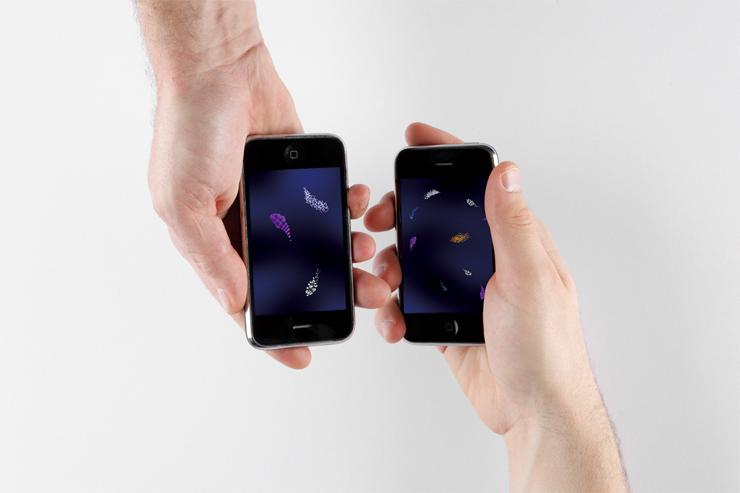 Scolu begins as an interactive aquarium, populated by virtual creatures. As a gateway between digital life and physical life, the aquarium is the starting point of a journey that will eventually lead to the four corners of the planet. Moving from iPhone to iPhone, from pocket to pocket, the virtual creatures form a community that is both real and virtual, connecting human beings and virtual creatures through physical contact. The experience is thereby prolonged beyond the walls of the exhibition and seeks to spread itself well beyond its source.
Scolu prend naissance dans un aquarium virtuel et interactif, peuplé de créatures virtuelles. Passerelle entre vie numérique et vie physique, l'aquarium est le point départ d'un périple que ces créatures vont faire à travers la planète. Ces êtres se propageront à travers le monde, passant d'iphones en iphones, de poches en poches, formant ainsi une communauté à la fois réelle et virtuelle puisqu'elle réunie êtres humains et créatures virtuelles autour d'un contact physique.