Yes, I'm still writing my thesis, and yes, I was supposed to be finished a few weeks ago, so I don't really have time to blog right now. Therefore, you'll have to wait for my take on the Wii, the iPhone, and other digital news. I already have a few comments here or there in the official press channels, so you'll just have to be content with those when they're released in the newstands. I.e. this post is really just one-of-those-lame-placeholder-promises for content still-to-come.
Also, it looks as if I'll be travelling in February, both within France and to the United States, some of it semi-public. So I'll let you know here when the details are set in stone.
But from within my stress-induced apathy, I did want to post about this news that just arrived in my inbox. Jean-Baptiste Labrune just sent me word that the first Dorkbot Paris meeting will finally be taking place Wednesday, January 24th at 20h30 at Ars Longa, 67, avenue Parmentier in the 11ème (m° Parmentier / Saint-Ambroise). Jean-Baptiste will be speaking, along with Joëlle Bitton, Emmanuel Ferrand, and David Steinberg. They even have very official sounding « titles » to their talk (hmm, I don't know how décontracté the whole thing will be, but it's a move in the right direction).
We're all in the middle of a million different workshops with various invited guests in Aix-en-Provence right now so I don't know who among us will have the courage to head up to Paris. Currently in-house : Ben Chang and Robb Drinkwater from Chicago, Tamiko Thiel and Peter Graf from Munich, and in two weeks John Klima will be joining France Cadet for a workshop on gaming. Meanwhile, François Parra and I are sharing duties on a sound + hypermedia hybrid workshop with the 2nd-year students, using Processing on my side and PureData on the other, and seeing how the two logics can join up. So that's just too many things to allow any of us to be mobile right now.
Marie Lechner also just sent word that she's put up Etienne Cliquet's cryptic Tégument X along with an interview. This is required reading/folding for all current students working with me (either on-line, or on-site), so if this is your case, you now know this week's assignment. Etienne is a brilliant artist, a former member of the now-disbanded Téléférique, and the author of an important text for digital aesthetics, L'esthétique par défaut. Over the holidays I was lucky enough to corner Etienne for some questions on his recent origami work, which I will publish later in the year along with the other interviews I conducted for my research (Toshio Iwai, Casey Reas, Servovalve, were some of the others). If you can read French I suggest you visit his blog, it's great stuff, and should be further proof to those that aren't paying attention that the form of the blog is shifting, and becoming many different things for many different people. In Etienne's case, one could argue that his blog is an intrinsic part of the artwork itself, i.e. yet another fold in his artistic machine.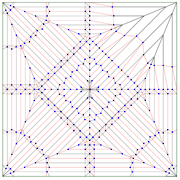 Quick translation of the diagram key:
Black lines: Fold toward you
Red lines: Fold away from you
Grey lines: Guiding line
Blue dots: Hyperlink