The CityMedia system is an open platform for the exploration of public screens and new forms of collective interaction. It uses multi-touch sensors, 3*d body tracking, webcams and internet connectivity to connect people, data, media and objects. CityMedia systems can connect to other CityMedia systems, with the first two exhibited simultaneously in Aix-en-Provence and Marseille during the month of April 2011. The CityMedia Project was exhibited at the Bâtiment d'art contemporain as part of the Mapping Festival in Geneva, Switzerland in May 2011.
CityMedia Platform
Software: CityMedia
Video: CityMedia at Mapping (vimeo)
Project: CityMedia
Exhibition: Mapping Festival 2011
Location: Batiment d'art contemporain Genève (Map)
Installation: BAC, 11:00-19:30, 19-30 May 2011
Conference: From HAL to Kinect: Live Visuals and Body Tracking, BAC, 16:00-19:00, 25 May 2011
Workshop: Body Double: Kinect Hacking, BAC, 10:00-17:00, 26 May 2011
CityMedia Production: Pierre-Emmanuel Reviron, Seconde Nature
Development: Atelier Hypermédia, École supérieure d'art d'Aix-en-Provence
Artistic direction + system design/development: Douglas Edric Stanley, et al.
System development: Guillaume Stagnaro
Additional development: Stéphane Cousot, Tomek Jarolim, Pierre Rossel (Media Design —HEAD), Julien Gachadoat (2Roqs), Memo Akten
Structure + Scenography: Elizabeth Guyon, Digital Deluxe
Project consultants: Fing
User study: Zinc/Friche + Telecom Paris Tech (CoDesign Lab & Media Studies)
Application Development: École supérieure d'art d'Aix-en-Provence, Media Design —HEAD
Application Design: Jane Antoniotti (ESAA), Joël Belouet (ESAA), Maria Beltran (Media Design —HEAD), Carine Bigot (Media Design), Cédric Brunel (Media Design), Alexandre Burdin-François (Media Design), Matthieu Cherubini (Media Design), Pascal Chirol, Julien Gachadoat, Lizzie Houellebec (ESAA), Hyejin Kim (ESAA), Tomek Jarolim, Leïla Jacquet (Media Design), Nicolas Levacher (Media Design), Baptiste Milesi (Media Design), Maxime Mollon (Media Design), Raphaël Muñoz (Media Design), Cristina Dos Santos (Media Design), Stéfan Piat, Cassandre Poirier-Simon (Media Design), Ellwood-Léo Spafford (Media Design), Douglas Edric Stanley, Emilie Tappolet (Media Design)
Citymedia Project & Body Double Workshop - Mapping Festival Profile from mappingfestival on Vimeo.
FILMED AT MAPPING FESTIVAL - GENEVA - MAY 2011 www.mappingfestival.com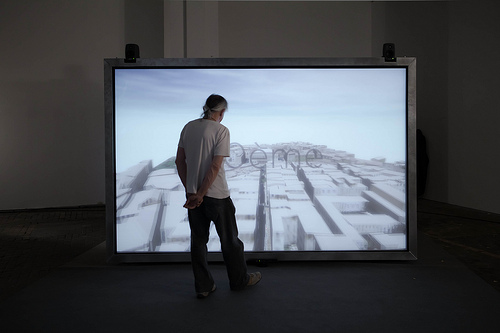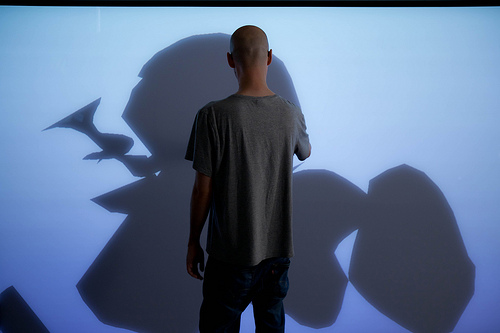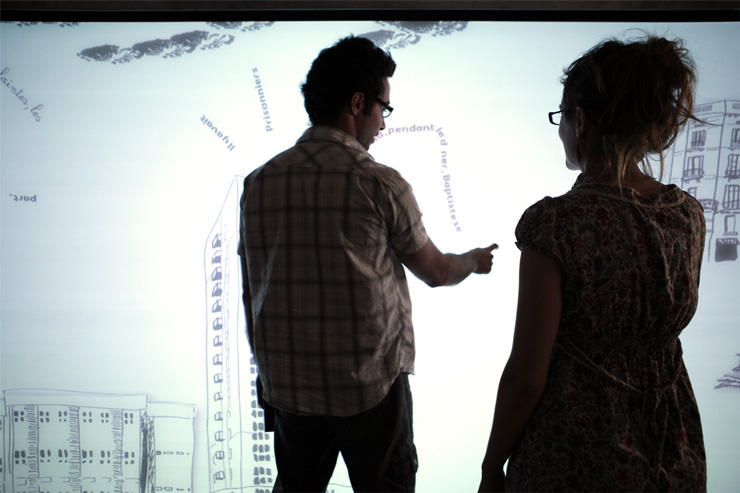 Over the past year, we have been building and experimenting various applications at the Atelier Hypermédia in Aix-en-Provence and at the Master Media Design —HEAD Genève. We were also joined in the prototyping phase by students and teachers from the Studio Lentigo, ESBA Marseille, the École spéciale d'architecture Paris, and the École nationale supérieure des arts décoratives, Paris. Over forty students have built about twice as many prototypes in 10 different sessions dedicated to designing, prototyping and developing uses for and with the system.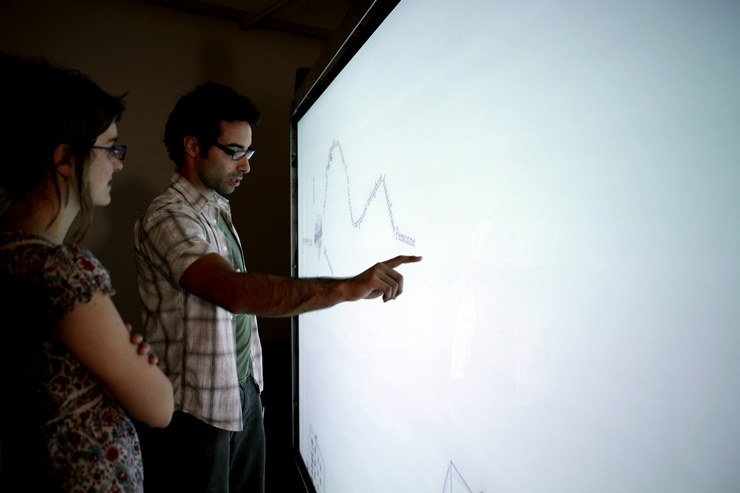 There are currently about 25 applications presented in the system, with eventually more to come at the end of a workshop dedicated to Kinect hacking this Thursday, May 26, 2011, also at the BAC. This workshop sold out very quickly, and unfortunately we do not have any more room for extra participants. So please people, stop begging, it's heartbreaking. You are welcome to come at the end of the workshop though, and watch as will attempt to add any working applications developped during the workshop into the system.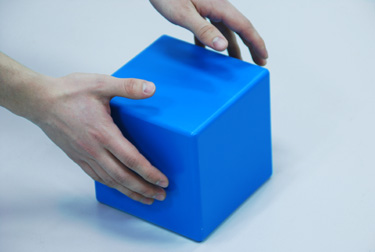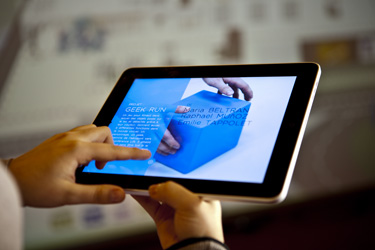 While the project was developed principally at the Atelier Hypermédia in Aix-en-Provence, our students in the Media Design Master at the HEAD did a considerable amount of work in the design and development of the various applications and contributed as well to the design of some important platform components; as a consequence we wanted to show the result of this work in Geneva. Given that there was already this interresting festival dedicated to real-time visualization, and given the amount of body tracking and various other techniques of real-time image manipulation we use in our system, the venue seemed appropriate.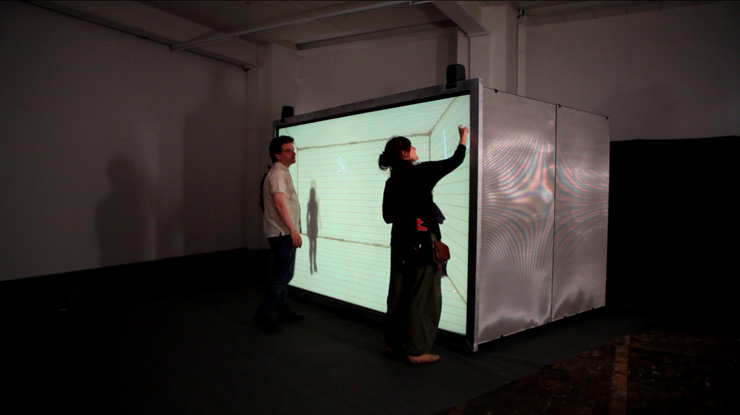 Finally, I will be giving a talk Wednesday afternoon at 16:30 at the auditorium of the BAC, along with Jean-Baptiste Labrune and VJ Fader, moderated by Nicolas Nova. For my part, I'll be exploring some of the artistic and speculative predecessors to Microsoft's latest Kinect device, and will finish with the artistic work, research, and collaborations that allowed us to quickly get up to speed with these new devices.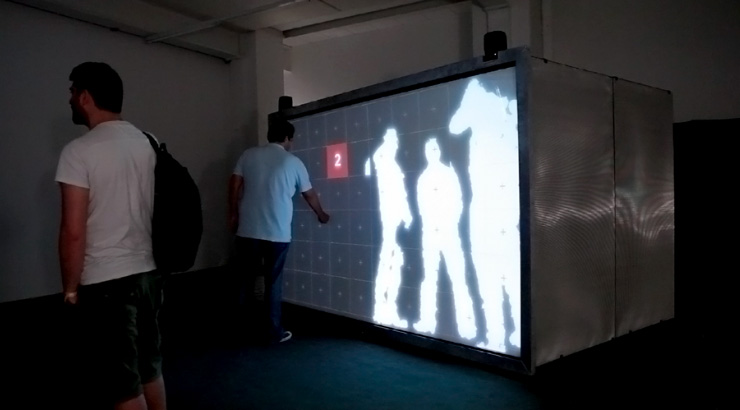 P.S. There are some good pictures of the exhibit over at Pasta&Vinegar: From Hal to Kinect: live visuals, music and body tracking technologies - Mapping Festival Geneva
Le projet CITY MEDIA, né en 2009, est le fruit d'un travail collectif entre développeurs, artistes et opérateurs culturels, réunis par l'envie de repenser la place des médias dans la ville et d'en rendre l'usage plus immersif, plus humain et plus sensible. Celui-ci prend la forme d'un grand écran interactif tactile qui intègre également un système de capture du mouvement, qui peut être activé par plusieurs personnes à la fois, agissant de concert ou de manière indépendante. Véritable plateforme d'innovation ouverte, le City Media intègre une vingtaine d'applications développées par des étudiants d'écoles d'art —— le support de présentation des travaux du workshop mené par Douglas Edric Stanley pendant le Mapping Festival.