MCD has just annouced the publication of WJ-Spots #1 - 15 Years of Artistic Creation on the Internet. It is a billingual (French/English) publication.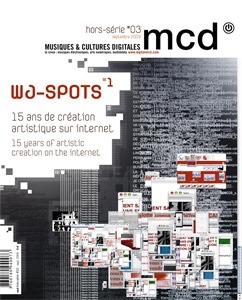 As readers of this blog might have noticed, I participated a few months back in Anne Roquiny's WJ-S project at the Maison des métallos, Paris. For those that don't know the system, WJ-S is a multiscreen networked performance apparatus, allowing for real-time mixing of the web, à la DJs and VJs, hence the moniker « WJ-S ». So while I spoke last may on subjects ranging from protocol politics to sleepy surfers, Isabelle Arvers and Anne Laforet clicked and mixed a visual tapestry on the WJ-S system for the parisian audience. Now that talk, along with some 40 other talks from various artists and intellectuals, has been compiled into an illustrated publication.
Here's the English press release:
++++++++++++++++++++++++++++++++++
WJ-SPOTS #1 15 years of artistic creation on the internet
WJ-SPOTS is a project that was conceived of and designed by media curator Anne Roquigny, in which artists, critics, thinkers, inventors, researchers, curators, organizers and producers of cultural events are invited to look back on 15 years of Internet history.
The interviews are conducted inside the WJ-S multi-screen environment www.wj-s.org, transformed for the occasion into a space for thought and investigation. Online browsing of a selection of emblematic websites, chosen by the speakers, take place simultaneously on 3 big screens. Real time surfing is like a magnified and augmented thought presentation, offering multiple of points of view while the participants answer a series of 5 questions.
With the participation for WJ-SPOTS#1 of : Aliette G Certhoux, Agnès de Cayeux, Anne Laforet, Anne-Marie Morice, Annick Rivoire, Annie Abrahams, Antoine Schmitt, Bruno Alacoque aka weweje aka s.u.n aka datatank, Albertine Meunier, Christophe Bruno, Collectif MU, Cyril Thomas, David Guez, David-Olivier Lartigaud, Douglas Edric Stanley, Elisabeth Klimoff, Emmanuel Vergès, Eléonore Hellio, Etienne Cliquet, Fred Forest, Grégoire Courtois aka Troudair, Gregory Chatonsky, Isabelle Arvers, Ivan Chabanaud, Jacques Perconte, Jérôme Joy, Jocelyne Quelo, Joëlle Bitton, Julie Morel, Lucille Calmel, Mabuseki, Margherita Balzerani, Martine Neddam aka Mouchette, Michaël Borras aka Systaime, Nathalie Magnan, Nicolas Frespech, Nicolas Maigret, Olga Kisseleva, Olivier Auber, Olivier Forest, Peter Sinclair, RYBN, Thierry Théolier aka ThTh, Xavier Faltot.
The first WJ-SPOTS took place in Paris, on May 27th & 28th, 2009, from noon to midnight, and was programmed within the framework of two digital events : Futur en Seine and Les Immatérielles.
WJ-SPOTS#1 was a two-day opportunity to discover approximately 40 outstanding figures of the French Internet community and the online content (texts, sound, video, animations…) browsed and downloaded in real time by Isabelle Arvers and Anne Laforet, from the gigantic hard drive that is the web.
The participants commented and analyzed, from an artistic perspective, how the Internet has been progressively taken over as a space of artistic creation, from its beginning until now : online creation, software art, code art, ascii art, flash art, google art, generative art, interactive art, collaborative art, tactical media, locative media, telematic art, network performances, etc.
WJ-SPOTS #1 is the first edition of a series of events and publications that will be organized in 2010 and 2011, in partnership with international media and cultural organizations.
WJ-SPOTS plays on numerous levels of re/transmission and publication.
WJ-SPOTS is a public event where it is possible to interview online artistic creators and surf in real time their selection of Internet sites.
WJ-SPOTS makes it possible to see the live retransmission of the event on the Internet on the Selfworld site.
WJ-SPOTS makes each of the interviews available via video on demand, on the server of Digitalarti.
WJ-SPOTS provides access to the artists' bookmarks.
WJ-SPOTS is also a collection of bilingual (French and English) special editions, produced and published by the magazine MCD.
WJ-SPOTS #1 is supported by
++++++++++++++++++++++++++++++++++
ACHETER EN LIGNE / BUY ON LINE