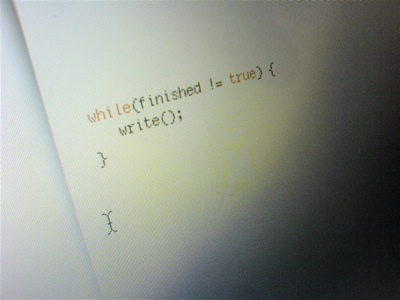 Lame coder's joke, okay, but it's just to give notice that I really am busy right now and won't be posting much during the holidays. It's the last rush to finish my thesis which will be added to this space when it's done. You can also follow progress on individual sections via the various links above.
It's a little sad: back when I was studying philosophy, literature and all things wordly I used to be quite prolific; I even wrote a novel (egad!). Writing was such a pleasure then and I did it every day, often for long hours at a stretch. But writing this thesis, even if I know everything I want to say, is so… hard. Despite the little wonderful inspired moments, I just have so many distractions these days that it's hard to find that time for myself to just close shop and get everything done.
For example, if you're in Aix-en-Provence tomorrow, I'll be listening to my friend Paul Devautour tomorrow afternoon, followed by a recording for Radio Grenouille where Paul, Jean Cristofol and I will discuss the current state of intellectual property. Our discussion will be broadcast in mid-January. You see? There we go again, more distractions…
Luckily I found an old love in the attic while looking for a book. Ah, at least I now have a soundtrack to keep me going; and thanks to some top-notch customer service from Bose, a new pair of headphones to shut out unwanted noise and bathe in all that soothing distortion (now if they could just do something about email).
P.S. Since I'll be a little quieter than usual, I just wanted to take a second out and say : (ok, I'm gonna sound hokey here) I really enjoy all the emails people send me and although I reply to everyone, it sometimes takes me a few days weeks. But I love it, know that — and don't forget to send pictures of your wrapping paper!
*:-)