I was invited by the very respectible Poptronics to participate in this exhibition. For the « interviews » section of the exhibition, I was asked to revisit the ugly Invaders! brouhaha, as well as to opine on the age-old debate yawn! on the relationship between art + gaming. I am also in pretty cool company; folks like Nicolas Nova, Invader, Isabelle Arvers, Frédérick Raynal, etc.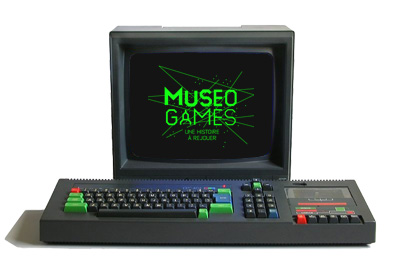 Update (22/11/2010). This exhibit has just been extended for another 6 months, due to it's popularity.
Exhibit: Museogames
Location: Musée des Arts et métiers, Paris
Curators: Pierre Giner, Stéphane Natkin, Loïc Petitgirard
Scenography: Traffik
Editorial content: Annick Rivoire
Date+Time: 22 June 2010 - 13 March 2011; 10h-18h; Closed on Mondays
Game History: Nicolas Nova, Philippe Dubois, Stéphane Natkin
Game Industry: Sophie Pène, Peter Molyneux, David Cage, Hideo Kojima, Philippe Ulrich
Game Culture: Isabelle Arvers, Olivier Séguret, Douglas Edric Stanley, Invader
Game Users: Frédérick Raynal, Milad Doueihi, Laurent Trémel, Gonzalo Frasca
Conférences:
Jeudi 17 juin 2010 de 18h30 à 20h; « Serious games : apprendre grâce aux jeux vidéo ? » - Julian Alvarez, Valérie Boudier, Jean Menu, Stéphane Natkin
Jeudi 2 septembre 2010 de 18h30 à 20h; « Histoire des jeux vidéo » - Daniel Ichbiah et Florent Gorges
Jeudi 30 septembre 2010 de 18h30 à 20h; « Les jeux vidéo jouent de nos émotions » - Stéphane Natkin, David Cage, Eric Viennot
Jeudi 28 octobre 2010 de 18h30 à 20h; « Et l'homme créa son double virtuel » - Catherine Pelachaud, Annie Gentes
Playable consoles/games: Atari 2600 – Pacman, Atari 2600 - Missile Command, CBS Colecovision - Donkey Kong, MB Vectrex - Minestorm, MSX - Nemesis, Atari 520 ST - Arkanoid, Amiga 500 - Lemings, Nintendo NES - Super mario bros, SEGA Master System - Alex Kidd, SEGA Megadrive - Sonic, Nintendo Super Nintendo - Super Mario Kart, SNK NeoGeo - Metal Slug, Atari Jaguar - Rayman, SEGA Saturn - SEGA Rally Championship, Sony PlayStation - Tekken, Nintendo N64 - GoldenEye 007, SEGA Dreamcast - REZ, Sony PlayStation2 - Okami, Microsoft XBOX - Top Spin, Nintendo GameCube - Star Wars Rogue Leader, Nintendo Game Boy - Tetris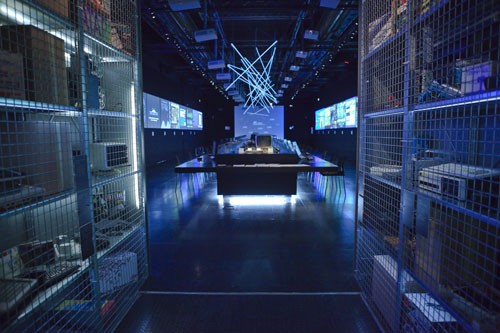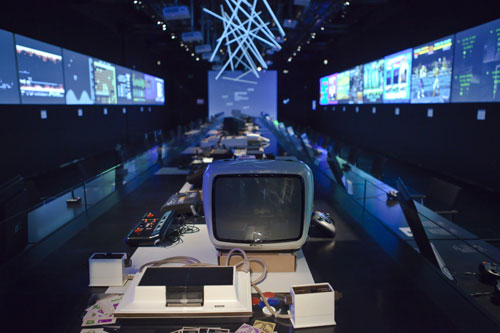 I'm particularly interested in the scenography of the exhibit which attempts a mise en scène of the both the public and private act of old skool gaming. Video games have over the years often been constructed as a very private act — not all that different from the act of reading —, while at the same time utilizing explicitly shared media such as the family television set as its transmission device. Even in the context of collective gameplay the ultra-tricked-out PC often encloses the gamer through various devices, in an attempt to surround the gamer within their specific perspective of the game world/gameplay. The Gameboy of course created the ultimate template for this enclosure and will further cement this relationship via the 3ds. And yet simultaneously, this configuration has very much been called into question, thanks to phenomena such as Guitar Hero/Rock Band or Nintendo's own Wii.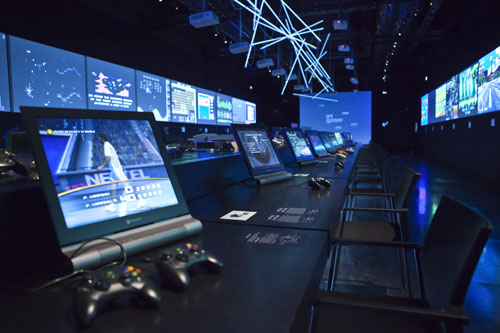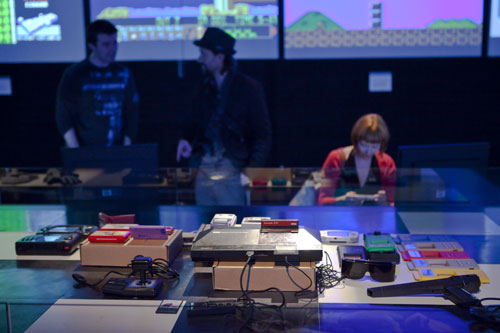 The question therefore become, how to expose such a configuration; how to exhibit the game as both image-sound media object and human-computer apparatus. This is not only a question of gameplay, although there is of course that aspect as well: we cannot very well pretend to exhibit the video game as cultural artifact without in some way exposing its various forms gameplay from within the immersive shell. But it is also the notion of another form of shared configuration, specifically of the human-computer embrace that takes place when we sit down and pick up the joystick in its invitation to play. There is an interesting spectacle in that embrace, or at least when considered as a phenomenon in and of itself.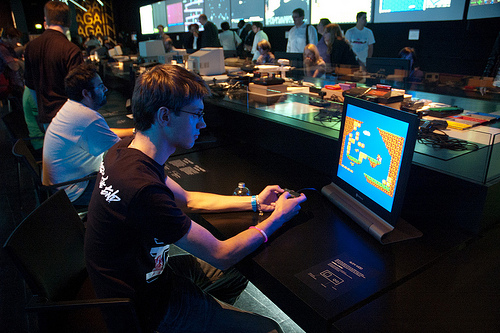 There are also a few other curiosity pieces, such as Sega's stereo-laserdisc « Time Traveller) » which I was actually able to play a few weeks ago at California Extreme 2010. It's a strange pseudo « Hollogram » device, which plays more or less like laserdisc classics such as Dragon's Lair. The cheez-y gameplay sucks, but of course you knew that already. Nevertheless it sure feels like an under-explored technology that I wouldn't be surprised to see recycled in some modified form over the next few years.