I'm about to get on a plane (yearly Silicon Valley trip home) with our dog, Duke and we had to place « Live Animal » and « Up » stickers on his cage. Since I didn't have any, I whipped these up, using that oh-so-2008 / Hopey-changey sans-serif, Gotham and printed them out onto pre-cut inkjet sticker paper (hence the odd positioning of items).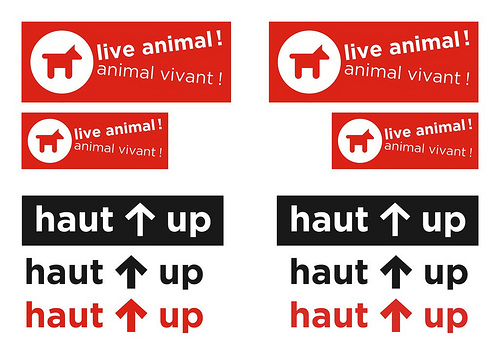 You can download the PDF here: liveanimal.pdf
If you use this pdf for your own travel needs, know that it's officially Friendly-Ware®™, i.e. « be friendly » (send a picture, say thanks, give 'er a woof, et caetera).
And here are some shameless pictures of Duke, because, well, he's adorable and has officially teary-eye-stared my protective cynical sheen to oblivion.